Back-to-School Giveaway
Back-to-school is in full swing and there are so many exciting new developments to share!
Rise Up Foundation Founder, Alane Adams would like to thank everyone who has purchased The Red Sun and helped make its opening month a success.
After a successful trip to Denver Comic Con where we launched the book-inspired mobile game, BattleKasters, an exciting new opportunity has developed and we'd like to celebrate it with a giveaway.
Pop Culture Classroom just announced it will be developing common core curriculum around The Red Sun! If you know about Alane and her platform, literacy is her main driver and to see her fun, fantasy series become a part of the education system is beyond exciting.
To get everyone else pumped about this announcement and the official release of the curriculum in October, we are doing a back-to-school giveaway for teachers!

Win School Supplies for the Year and a Classroom Set of The Red Sun!
Teachers: Get everything you need to have a successful year when you enter to win a $500 Target card and 5 copies of The Red Sun!
Here's how you can enter:
Share this link about The Red Sun's curriculum and tag @Rise Up Foundation http://bit.ly/1KTmXvH
Answer weekly teacher questions on the Rise Up Foundation Facebook page
Tag your fellow teacher friends in the comments of Facebook posts like these: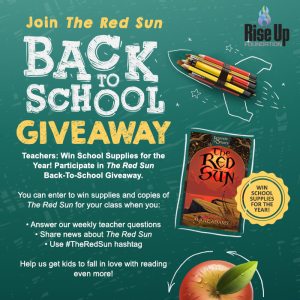 Not a teacher?
You can still win too! Share a post about a teacher who inspired you and tag the Rise Up Foundation. You will be entered to win one of five autographed copies of The Red Sun!
Show your love for teachers and spread the news about The Red Sun for your chance to win!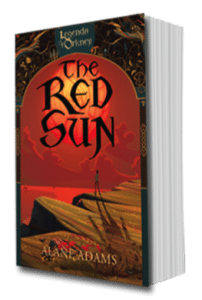 Sam Baron is about to get the shock of his life. First his substitute English teacher claims to have turned his old teacher into a lizard; then a strange dwarf named Rego arrives and claims Sam is from a magical realm called Orkney. When his friends are taken prisoner, it's up to Sam to save them. Sam embarks on a journey to Orkney through a stonefire to find his friends―but when he arrives, he discovers that an ancient curse has turned the sun a poisonous red and threatens to destroy the land. With only a young witch girl to guide him, Sam must choose: save his friends, or stop the red sun from consuming the land? Drawing on Norse mythology, The Red Sun follows Sam's journey to uncover the truth about his past―a journey during which he has to overcome the simmering anger inside of him, learn to channel his growing magical powers, and find a way to forgive the father who left him behind.